Previous events
Bazaar Cafe, 5927 California St., San Francisco, CA
Here we go again. Twelve hours of unmitigated music. I go on at high noon with Jim Bruno and Hobo (buncha hippies). All proceeds proudly go to Music In Schools Today. Eat, drink, be merry, donate lotsa $$$ so kids can have a good music education. Guitars, not guns. Self-expression, not harmful aggression.
Donations to Music In Schools Today
Nina Jo Smith likes to eavesdrop. She borrows stories from small town cemeteries and kitchen confessions. She imagines what her underground neighbors might be saying.
Nina Jo is a deft and rhythmic fingerpicker on both guitar and ukulele. She spent the last two years reclaiming her voice after an illness left her lungs scarred. 
On her forthcoming album she lets her scarred lungs fly free. Delicate and tough—just like her songs. And while you might hear a lot of songs in a day, you'll wake up in the morning humming hers.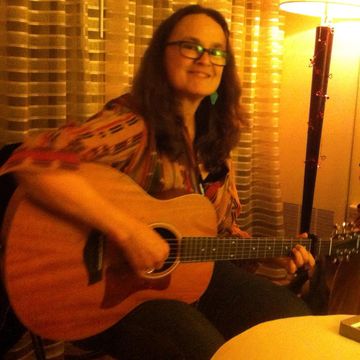 Hear more of my story on KALW radio. http://www.kalw.org/post/hear-here-meet-nina-jo-smith-0