Previous events
Bazaar Cafe, 5927 California St., San Francisco, CA
Here we go again. Twelve hours of unmitigated music. I go on at high noon with Jim Bruno and Hobo (buncha hippies). All proceeds proudly go to Music In Schools Today. Eat, drink, be merry, donate lotsa $$$ so kids can have a good music education. Guitars, not guns. Self-expression, not harmful aggression.
Donations to Music In Schools Today
Want to learn to play? I can help get you started on guitar or ukulele. Learn to play song-by-song.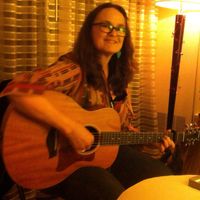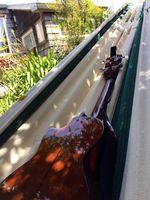 Already playing? Recovering from an injury? You can improve your playing and performance through movement awareness and body memory. Nina Jo draws on her training (MA Physical Education; black belt in Tae Kwon Do) and practice of movement-based performance art to develop workshops and individual lessons on mindful movement for musicians.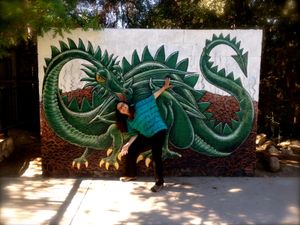 Need songwriting workshops or coaching? Writing is often a solitary process but sometimes a group session or individual feedback can jumpstart your creativity. Let's go!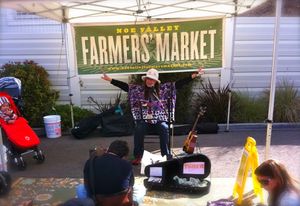 Nina Jo has taught in private and public educational settings since 1978.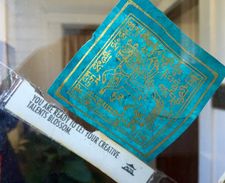 Testimonial.
Nina Jo is wonderful. In addition to being a gorgeous, thoughtful and politically activated singer-songwriter, she is also a patient, nurturing and motivating guitar teacher. Because of an old injury to my left hand and wrist, I thought I would never be able to play guitar in any sort of meaningful way. Nina Jo has not only taught me how to modify my playing to suit my hand, she has also shown me that such injuries do not have to hold a person back. Working with Nina Jo has given me a courage ind inspiration that I did not previously have…and my confidence continues to increase by leaps and bounds all the time. Thanks to her patience, flexibility, and genuine kindness, as well as her energy, presence and wisdom, I am absolutely loving learning to play the guitar! I cannot recommend Nina Jo highly enough.--Sam Whitehouse
To schedule a lesson in person or via Skype or WhatsApp, please contact Nina Jo through our contact form. Accepting payment via Square, Paypal or Venmo.